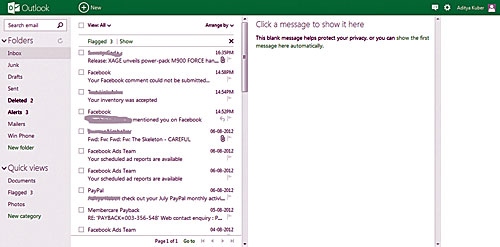 To be fair to Microsoft, calling Outlook.com refreshed is really selling them short. They've done a stellar job of actually making a non-Gmail service look and work well. Admittedly, it's just been a few days since they opened their doors to the world, but it's a huge (humongous, really) improvement over what Hotmail had become. Bloated, unusable and quite frankly, pointless. So what makes Outlook.com worthwhile?
For one, Outlook.com does really extend the main features of the desktop mail client to the web. And it does without compromising too much on speed or quality. The continued extension of the Metro UI is also a good change. It will let users get used to the interface before Windows 8 launches later this year.
Yes, there are some annoyances as you would expect. But the hope here is that Microsoft will listen to the users and iron these out. The operative word being hope! Without further blabbering, let's dive right into it.
As a webmail user, you're now used to Gmail's no-nonsense interface. They have added features over the years, but these have also made the service seem complex. A simple 3-column layout here does the job. It also means that you won't be moving in and out of the inbox too often to read a mail. Similar to Outlook, this service shows your folders on the left, list of emails in the middle and the mail on the right. And you can adjust the widths of the columns so you get the maximum for reading the actual email. Like with the desktop version, you can also choose to have the 'Preview Pane' below the list of emails.
For those who want to further personalize this, it is possible to change the colour of the top banner. The rest of it remains a pleasing, somber grey which allows you to focus on the mail in front of you and not get distracted.
The top left area that houses the logo will become active when you hover over it and let you switch to the People, Calendar and SkyDrive services. All great ones to use as well.
It sends and receives mail. And lets you collect mail from other accounts. And integrates Facebook, chat and lets you filter emails, apply rules and customize your signature… (deep breath) and does auto-sorting based on the content in an email (photos, documents, flagged, etc.)… and so on!
Honestly, most other services will also let you do all this. What makes Outlook.com a winner is the ease with which these functions are achieved. After using Gmail for over half a decade, the author was so taken with Outlook.com that he is now collecting all his mail from Gmail in Outlook.com. Score 1 for Microsoft!
The list of features isn't mindboggling. It isn't revolutionary. What is revolutionary is the ease with which everyday tasks are accomplished. And for some reason, it is easier to keep this mailbox organized and clean.
Small touches like not showing the first email right when you log in does make you feel secure. It's to protect your privacy and that too, without some convoluted steps.
The mailbox wars are back! Hotmail lost to Yahoo, who in turn lost to Gmail and now Hotmail is back a la the Transformers! In a newer, stronger and meaner avatar. Can they build on this and make it a must-use service? It would seem so…
Originally written for The Goan.
Comments
comments