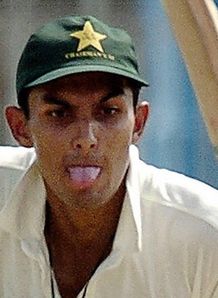 Three-and-a-half months is how long I've not written on this blog. I have at least 5 unfinished drafts but nothing could compel me more to write again than Zulqarnain Haider. With a name that's a mouthful, the young cricketer – all of 24 years of age and 8 international matches old – disappeared from Dubai mid tour and after resurfacing in the UK, has announced his retirement from international cricket rather dramatically.
A plot befitting a Bollywood potboiler, his exit has been well documented and once again brings to the fore the mismanagement of the PCB. But that's not what intrigues me. I referred to the plot being tailor-made for Bollywood and for some reason, I see only Emraan Hashmi fit to play the unhappy Haider.
Hashmi has the experience of playing a match fixer previously and this would add to his all-round resume to now be on the other side of things. With Veena Malik doing stupendously well in Bigg Boss and available for any role the PCB requires, the movie pretty much casts itself. This should be a gritty movie with Malik's inside knowledge helping to add to the drama and realism that the film can offer.
Of course, Haider who has gone on record to say that he's pretty much broke and has "only his daily wages from the South Africa series", would do well to quickly get in touch with the Bhatt camp and pitch the story lest he have to suffer the same fate as Chetan Bhagat did when 3 Idiots came out. No credit, little money but lots of fame.
In the case of Bhagat, the fame worked to sell the next book. In the case of Haider, it won't do him much good.