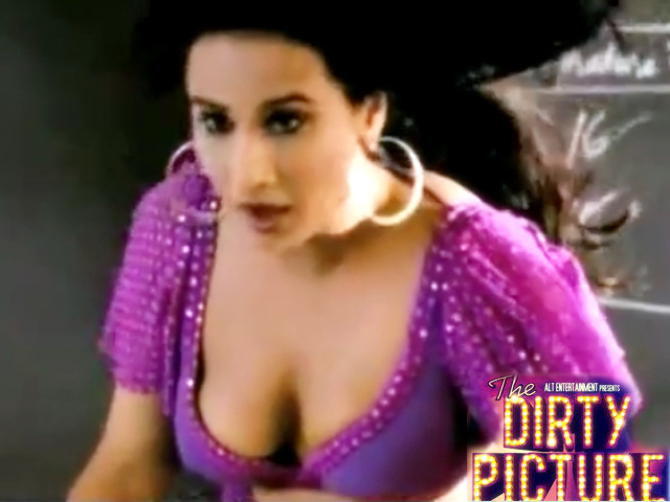 Vidya Balan and her cleavage steal the show. No doubts about it. Close second is Naseeruddin Shah's hanging second chin (or is it the first?). Let's just call it a jowl.
Now, Reshma is a village belle. She runs away on her wedding night to the big city. No problem. No accosting. No potential threats to her integrity. She finds herself housed with a local shopkeeper (Amma) who treats her almost like her daughter. And Reshma enjoys putting of the neighbours' conjugal joys by making sounds of pleasure while eating what seems like Chivda.
She wants to be a film star (not actress, mind you, star). And so she queues up at the studios in Madras looking for any bit role. Offers the doorkeeper there 'anything' in return for entry into the studio. Gets money in return for nothing. Doesn't spend it then, but eventually returns it. *facepalm*
She does make it into the studio, agrees to be whipped as part of the dance sequence and gets her first shot in front of the camera. Mind you, for an inexperienced girl, there's no nerves, no jitters, no inexperience… just raunchy moves that turn everyone on!
Everyone, that is, except the real director who coincidentally on that day wasn't shooting. He chides his assistants and threatens to burn the film. Until the producer rules that he will re-release the film in smaller centres with the song Reshma did.